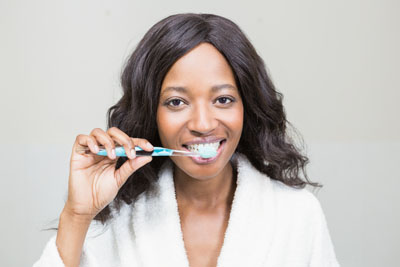 Visit our
cosmetic dentist
office in Dunwoody to learn about popular
cosmetic dentist
procedures and how they can be used to improve the appearance of your smile. If you are embarrassed to smile because of dark stains, gaps in between your teeth, crooked teeth, or even missing teeth, you do not have to be. Our solutions are comprehensive and can be used to correct virtually all aesthetic issues with your smile. Our solutions include dental implants, dental veneers, teeth whitening, and more. Here are a few of the things we can help you with.
Replacing Missing Teeth
There is nothing more embarrassing than losing teeth. Unfortunately, it is incredibly common to do so. Whether you have lost teeth due to age, infection, or an accident, we can help by replacing them. The best way to do so is with dental implants because this is the only solution placed surgically to replace both the root system and the tooth. Other options like dental bridges and dentures are dependable, but they only replace the visible portion of your tooth. As a
cosmetic dentist
, we can give you an option that functions as well as your natural tooth used to, as well as look and feel like it.
Closing Gaps
As a
cosmetic dentist
, we can close gaps in between your teeth. If the gaps are because your teeth are misshapen, we can do so using dental veneers. A veneer is a thin shell placed on the surface of your teeth and can, therefore, change its appearance. If the gap was caused by you losing a tooth, we can provide you with dental implants in each space where this is the issue. We can also discuss other solutions like dental bonding or dental crowns as necessary.
Stained Teeth
We can use our teeth whitening solution to whiten your teeth, removing stains and any deep discoloration that exists. This way, you can smile with confidence and be proud of how your teeth look. White teeth are a sign of health and youth, so this is definitely a procedure to consider now and as you age. If you have any teeth that do not respond to the whitening treatment, we can cover the stains using dental bonding or dental veneers.
Crooked Teeth
Orthodontics is most commonly used to straighten teeth, and we recommend using them as necessary. There are times, however, where only a few teeth are misshapen and working with a cosmetic dentist is more practical. In this case, we can make your teeth appear to be straighter using dental veneers or dental crowns. Sometimes, we work with orthodontists as well. This is required when one or two teeth are not responding to braces and they need to be replaced using dental implants. Regardless of what you do not like about your smile, we can help to improve it. As a cosmetic dentist, we can provide you with dental implants, dental veneers, dental bonding or a teeth whitening procedure to improve your appearance and your oral health.
---