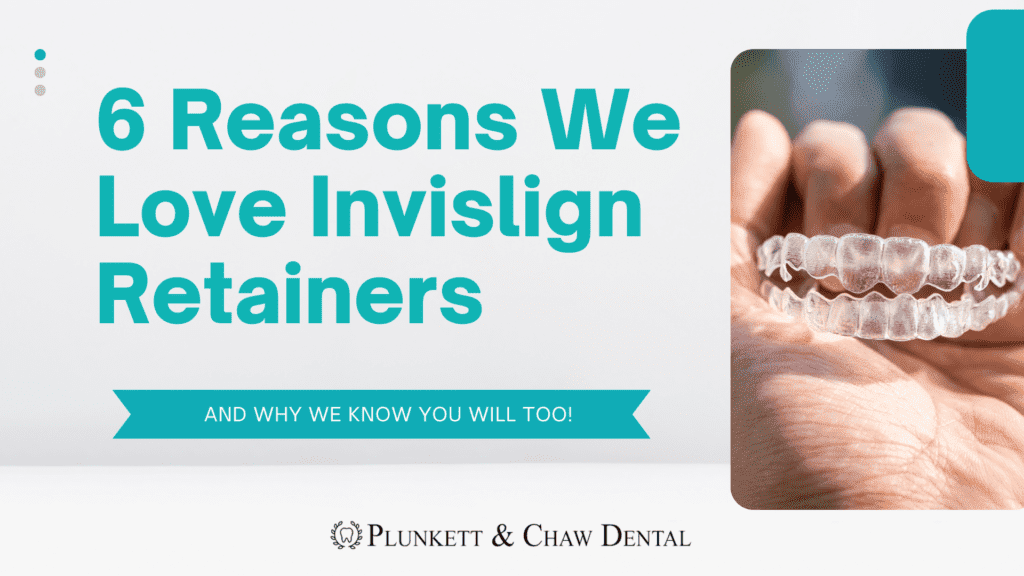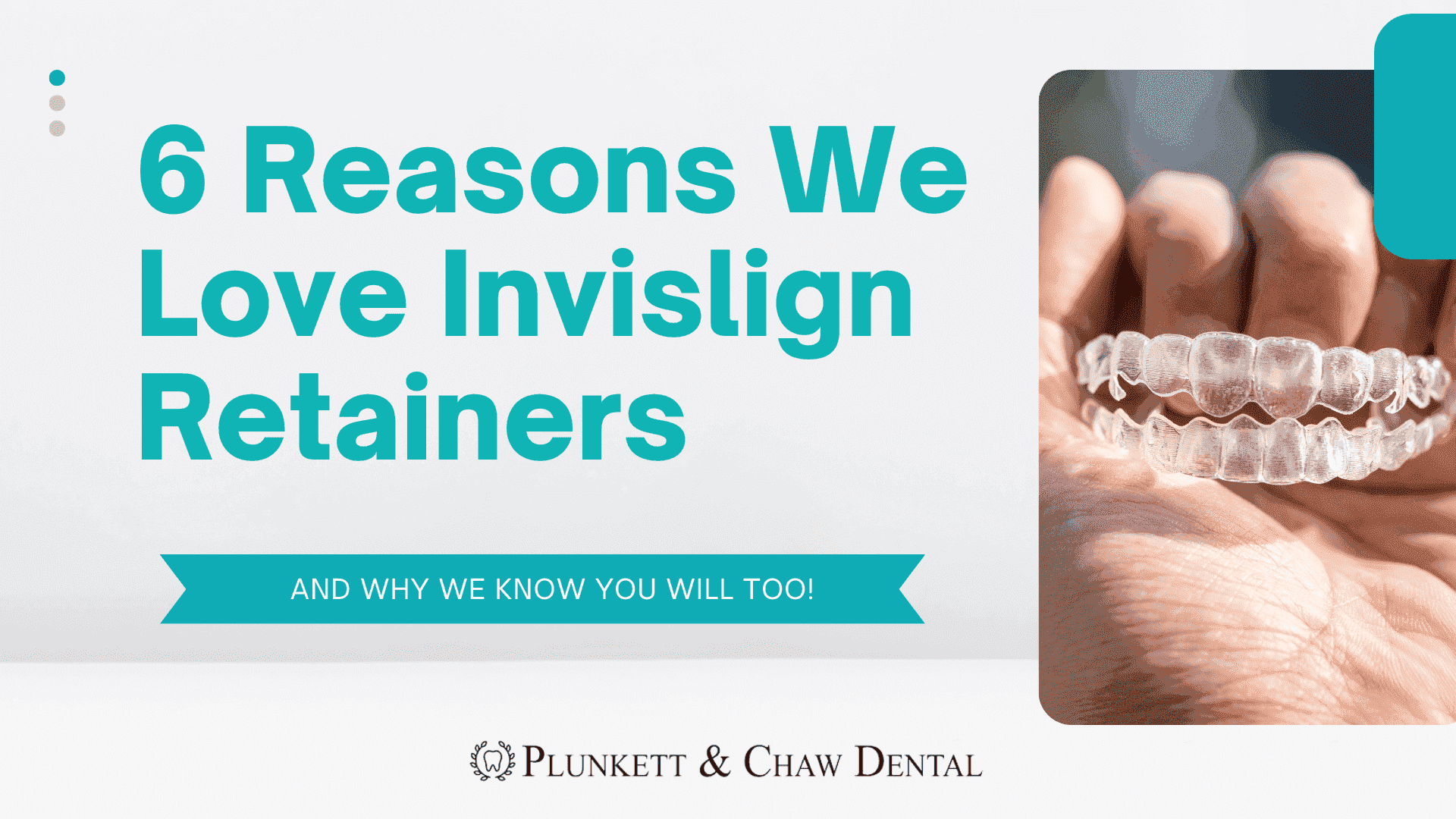 So, curious to know why you need Invisalign retainers, you ask? For most people, hearing that you need braces is stressful. After all, braces are semi-permanent additions to your mouth that can be left in for years at a time. Not only do they majorly alter your appearance, but they also change what you can eat, how you maintain dental hygiene, and so much more. Because of this, you won't hear many people say, "I love my braces!"
In recent years, however, Invisalign retainers or Invisalign braces have quickly grown to become the number one replacement for traditional braces. And while you may not hear people say they love their braces or that braces "changed their life," these are things you'll hear often about Invisalign.
There are plenty of reasons to love Invisalign and why you need Invisalign retainers, after all. And here are just six of the top reasons we predict you'll love them too from our Invisalign doctor:
#1: Practically Invisible
So, to address the #1 reason why you need Invisalign retainers – Unlike braces, Invisalign retainers are practically invisible when they're in your mouth. You may feel the retainers, but unless you're inspecting them in the mirror, you won't be able to see them. This means you can still confidently take photos and attend outings without worrying about them standing out like a sore thumb. In fact, many Invisalign users claim that their friends and family don't even notice when they're wearing them.
This is because Invisalign retainers are molded specifically to your mouth. They're designed to fit snugly against your teeth, minimizing any gaps that normal retainers may have missed. For many people this is the most important reason why you need Invisalign retainers.
#2: Eat Whatever You Want
For most people, being told there's an alignment issue with their teeth and that they'll need braces to fix it raises several red flags. Perhaps the biggest, reddest flag, though, is that they won't be able to eat many of their favorite treats anymore. Foods like corn, nuts, potato chips, and any sticky or hard candies will soon be completely off the menu.
With Invisalign, this isn't the case. The retainers are designed to be taken out at mealtimes and any other time you eat so they don't get dirty. Remember, though: they must be taken out for any drinks other than water, too. So eat whatever you'd like and skip the worrying that you might damage your brand new dental equipment!
#3: Easy to Clean In AND Around
One of the top reasons that Invisalign is preferred over braces and other dental alignment treatments is that they're easy to clean both in and around. Since you remove them for every meal or drink you have, you don't have to worry about them getting too dirty. When you do need to clean them, though, it's easy to do any required brushing  and disinfecting.
Additionally, you don't have to worry about how brushing and flossing your own teeth will change—because it won't! The process will be exactly the same as before you got your aligners: you'll simply brush and floss twice a day while you aren't wearing them. Your dental hygiene stays more or less the same making this another good reason why you need Invisalign retainers.
#4: Effective For Many Conditions
If you've ever heard about Invisalign aligners, you may have heard that there are some issues they just can't fix. After all, braces can be tweaked to fix certain orthadontal issues like overbites that aligners won't have any affect on. Right?
Well, actually, with the advancements in technology and Invisalign's continued innovation, there are many issues that the aligners can fix now which they couldn't help with before. Things like overbites and underbites are no longer braces-exclusive.
Here are just a few of the issues that Invisalign is a great treatment for:
Overbites
Underbites
Crossbites
Crooked Teeth
Tooth Shape
Open Bite
Crowded Teeth
Gaps in Your Smile
Despite this, there are still some severe issues that Invisalign may struggle to help with. If you're curious about whether an invisible retainer can treat your orthodontic issues, we recommend discussing it with a certified orthodontist il or Invisalign approved dentist.
#5: Comfortable and Easy to Maintain
Another benefit that makes Invisalign a top choice is how comfortable it is to wear the aligners. Unlike braces which have rough metal brackets, wires that can pop loose, and rubber bands that snap, Invisalign is designed for comfort.
The retainers  are made of a single piece of material molded to your exact mouth shape with some small alterations. These alterations will cause the aligners to fit a little tight at first as your teeth move and rotate to fit better. As time goes on, you'll receive new aligners that slowly adjust your teeth and jaws until they reach a final teeth positing that you're happy with.
You also don't have to worry about excessive maintenance, either. Where braces require special flossing procedures, Invisaligns can be brushed and cleaned like normal teeth to keep them sanitary.
#6: Feel Comfortable With Your Smile
Many of the patients we see for Invisalign state that self-confidence was a major issue before their aligners worked to fix their smile.
At Plunkett and Chaw, we believe you shouldn't let your smile hold you back from loving yourself. If you have goals for your smile, there's no need to wait to take those first steps—especially when Invisalign makes it so easy to do! The results will be worth it and we're certain that your only regret will be not giving them a try sooner.
Want to Try Out Invisalign? Schedule an appointment with Plunkett and Chaw 
If this article has enticed you to try out Invisalign like we predicted it would, then that's amazing! After all, Invisalign is perhaps the easiest way to get that straight, aligned smile you've always wanted without having to suffer for it.
Luckily, getting started with your Invisalign invisible retainer is easy. All you have to do is schedule an introductory appointment with Plunkett and Chaw dental in Dunwoody and we'll take care of the rest.
Reach out to us today at (770) 452-0222 or fill out the appointment request form on our website to request an appointment. We'd love to get you fitted with your new mouth!