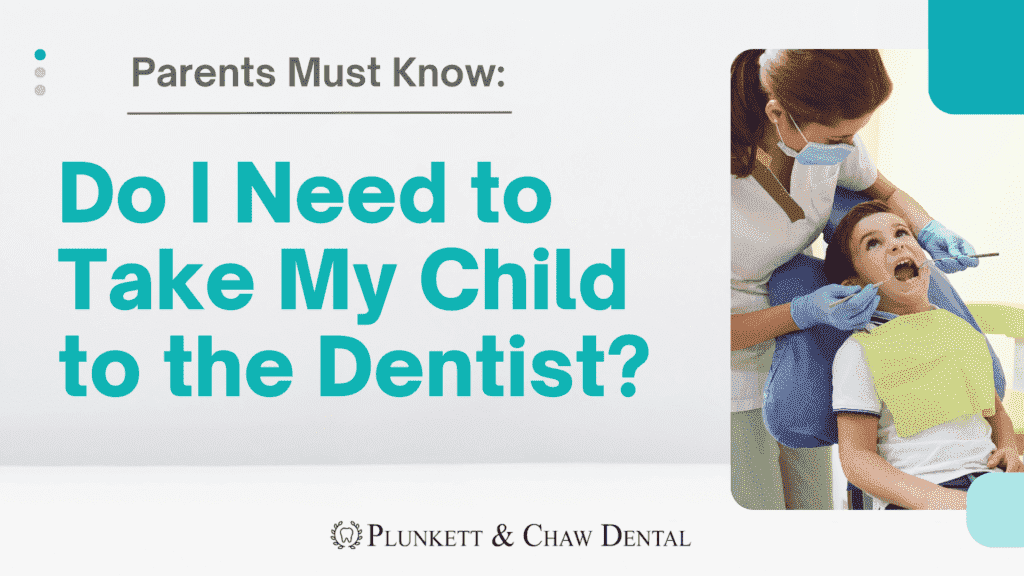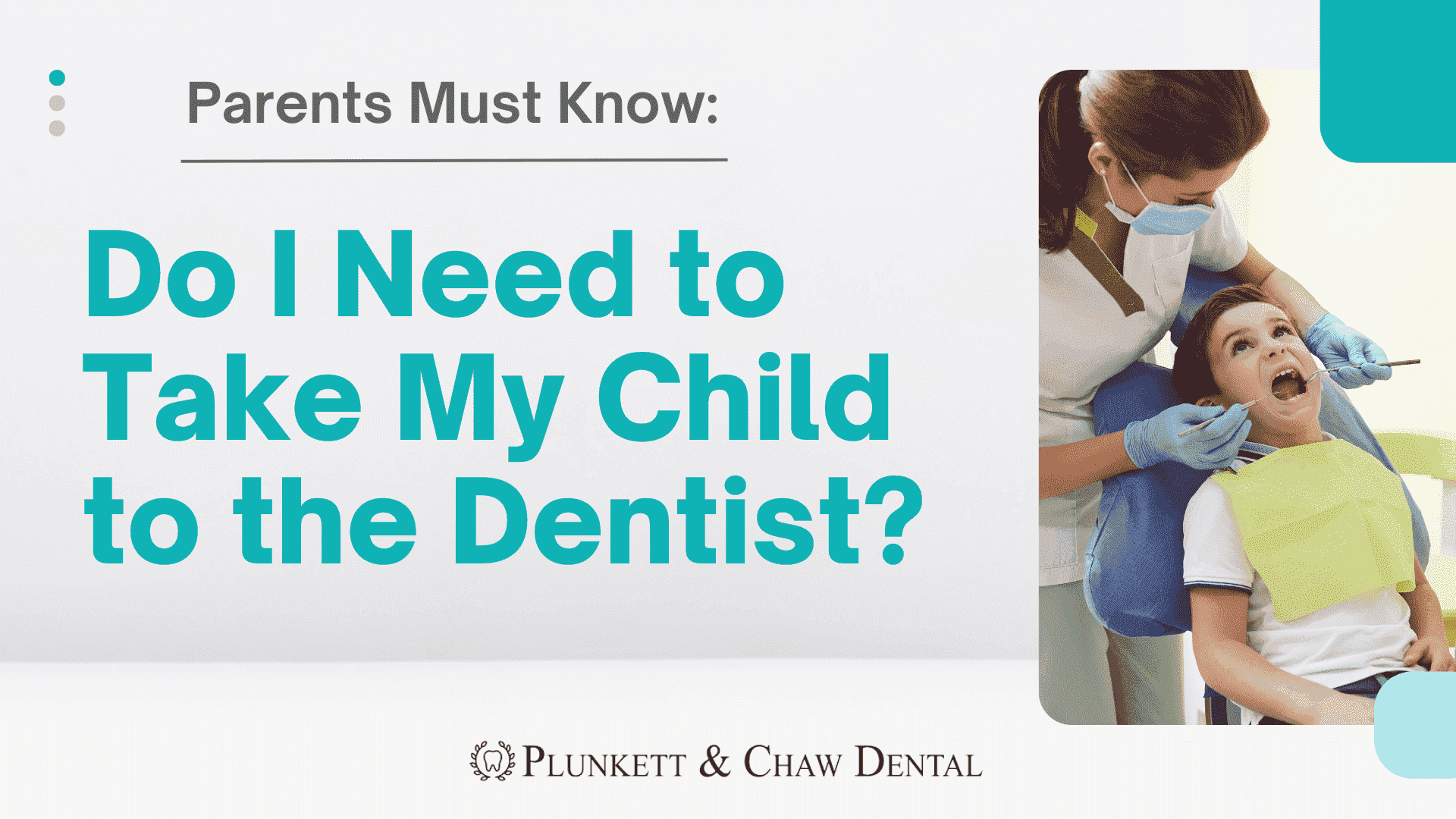 Your child's first dental appointment is an important milestone that sets the tone for all of their future dentist visits. You want to make sure they aren't just going to the dentist when they are in pain. You want to schedule regular checkups and catch issues early when they do arise. As such, it's completely expected that you would ask yourself, "When do I need to take my child to the dentist?"
We'll address this question and many others in this article, including:
When to make your first appointment
Which issues to bring to your dental provider
Whether you can handle certain issues at home, without a dental checkup
How often to schedule checkups
Here's how to answer the question, "Do I need to take my child to the dentist?"
When Should I Make My Child's First Dental Appointment?
The first big question most parents have regarding pediatric dental care is when to make their child's first appointment.
Unfortunately, there are a lot of misconceptions about the right timing for this visit. Some people believe you should wait until your child has a full set of teeth first. Others will tell you to wait until their first birthday.
According to the American Dental Association (ADA), the American Academy of Pediatrics (AAP), and the American Academy of Pediatric Dentistry, neither one of these is technically right. Instead, these associations all advise you to take your child to the dentist by their first birthday (rather than waiting until that date).
Specifically, the AAPD advises you to make an appointment when their first tooth appears. This allows your dental provider to ensure the initial tooth is healthy and catch any potential issues early.
How Often Should I Schedule Dental Checkups for my Child?
As far as pediatric dentistry goes, most dentists and researchers agree on the frequency you should bring your child in for a check-up.
The same as adults, children should go to a dentist at least every six months to make sure their teeth are coming in properly. This helps your dental provider address early spacing problems as well as build comfort and familiarity with your child.
Some pediatric dentists may even recommend a checkup every 3 months to help foster a sense of trust and monitor developmental concerns they may have.
Do I Need to Take My Child to the Dentist? 5 Reasons You Should
#1: To Learn About Dental Care Early
Your child's first dental visit is about more than just checking up on their teeth. It sets the stage for all the future dental visits they have in their lifetime. If you don't take your child to get a dental checkup until they complain of pain or have tooth decay, they're going to be naturally fearful of the experience.
During their first few appointments, they should be able to learn about dental care and explore the office with minimal stress or fear of pain. You should help them become familiar with the equipment the dentist uses and show them that there's nothing to fear.
Furthermore, having some early appointments allows your child to become acquainted with the toys in the dentist's office and learn about the goodie bags they give out so they come to look forward to the experience.
#2: Tooth Sensitivity
Tooth sensitivity can be an early sign of cavities, one of the most common pediatric diseases in America. By taking them to the dentist at the first sign of tooth sensitivity, you can address the issue at its source, help your child stay comfortable, and save their smile in the long run.
#3: Persistent Bad Breath
Bad breath is something we all would like to avoid. It's uncomfortable in social situations, and can quickly become something other children tease your child about. More than that, though, bad breath can be indicative of a more serious issue.
It isn't uncommon for your child to occasionally have bad breath. After all, kids are kids. Despite your best efforts, they put questionable things in their mouths, forget to brush their teeth, and avoid flossing like the plague. However, if your child has persistent bad breath while having a normal dental hygiene routine, it could signal something else is wrong.
By taking your child to the dentist to have chronic bad breath checked out, you can take early action on common pediatric issues like acid reflux, bronchitis, or even just general infection.
#4: Changes in Color or Texture Around the Teeth and Gums
A child's mouth gets around much more than any of us as parents would like it to. Thus, we have to keep a sharp eye on any changes their mouths may go through.
One of the most basic telltale signs something is going on with your child's mouth is a change in color or texture. Localized changes in either of these can indicate sores, basic infection, or something more serious like oral cancer. Therefore, if your child has changes in color or texture to their teeth or gums that lasts for more than a week, we advise you to schedule an appointment as soon as possible.
#5: They Lose Interest In Food
When our children are little, it can be an absolutely magical time. However, it can also be difficult to communicate with those little minds. Especially when your child is still too little to form words or sentences properly, you must keep a watch on their actions and interpret them the best way you know how.
If your child has lost interest in food and you can't seem to figure out why, it could indicate a dental issue. Perhaps they have a tooth that's hurting them, their gums are tender, a tooth has cracked, or they're experiencing jaw issues.
Whatever the case may be, if your child begins to lose interest in food, it is just as important to take them to the dentist as it is their regular doctor.
Final Thoughts
Even if your child doesn't have symptoms like those listed about, it is important to get them into the dentist early and make regular appointments. This helps not only maintain their dental health but also to keep your child acquainted and comfortable with their dental provider.
At Plunkett and Chaw Dental, we are experts in both adult and pediatric dentistry. If it's time to start taking your child to the dentist and you aren't sure where to start, give us a call today, and we'll walk you through the process.
Nothing is more important to us than your child's dental health.