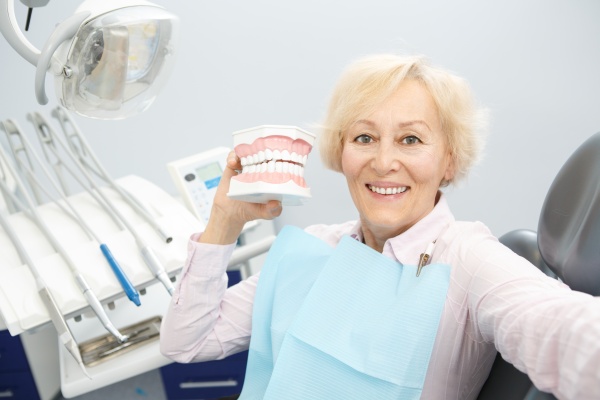 When looking for
missing teeth solutions
, call our office and schedule an appointment. We help patients who have lost their teeth in an accident or due to infection. Losing a tooth can be incredibly embarrassing, regardless of what happened. We understand that and are here to help our patients get their teeth back quickly.
Multiple Solutions
We offer a variety of solutions in our office and can make a recommendation after completing a thorough examination and taking X-rays. This is necessary because there is more than one way to replace a missing tooth but these options do not work for everyone. Things like bone density and the overall health of a person's mouth are factors that we must consider. In some cases, our patients will begin by wearing a temporary denture until they select a more permanent option like a bridge or implants. The three most common solutions for missing teeth are removable dentures, fixed dental bridge or secure dental implants. In our office, we recommend replacing a missing tooth with an implant whenever possible because it is the most secure option for doing so.
Important facts about dental implants
When considering missing teeth solutions, it is a good idea to learn more about dental implants. Here are the important facts to consider:
Implants are surgically placed. The implant is inserted under the gums and secured to the jaw bone.
The implant serves as a new root. The actual implanted post works like a natural tooth root and is not seen when a person speaks or smiles.
The body responds to an implant like natural matter. The body treats titanium like naturally occurring matter and will deposit bone around the implanted post.
Dental implants are good for jaw bone density. Since the body will create bone to put around the implant, this process can serve to strengthen the jaw.
Placed on the implant is the visible portion of the tooth, called a crown. It will use specific measurements to match the shade of surrounding teeth for a natural appearance.
Implants are cared for like natural teeth. There are no additional care instructions for an implant.
When it comes to missing teeth solutions, a dental implant is going to be the most natural looking and behaving synthetic tooth. This is why so many patients prefer them over options like a fixed dental bridge or dentures. Afterward, there will be a recovery period where the gums are sore and it may be difficult to eat, but this is only temporary. Also, even though implants are an investment, most patients feel that the cost is worth it to have a tooth that looks and feels like a natural one.
Learn more about missing teeth solutions
To find out if dental implants are right for you or to learn more about other options for replacing missing teeth, call our office and schedule an appointment. We will be happy to complete an examination and answer questions.
Request a dental appointment here: https://drleeplunkett.com or call Plunkett & Chaw Dental at (770) 452-0222 for an appointment in our Dunwoody dental office.
---