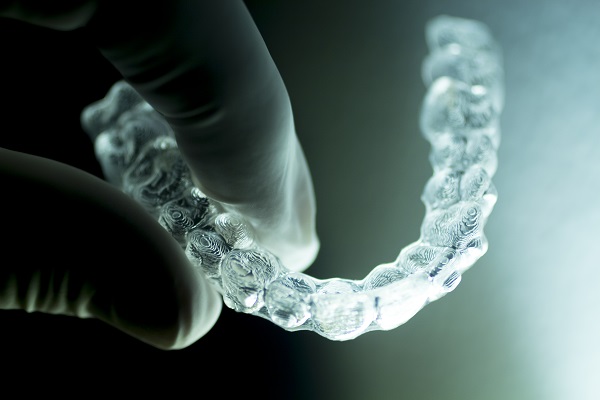 Are you wondering why so many people are choosing
Invisalign
® clear aligners instead of the other options for braces available these days? While traditional braces, clear braces and lingual braces are still common teeth straightening choices, the
Invisalign
® clear aligner system is becoming a more popular option due to the many advantages it offers.
The benefits of choosing Invisalign®
Understanding the advantages of choosing
Invisalign
® helps you learn more about this widespread teeth-straightening process that many dental patients are choosing. You may want to experience one of these benefits or all of them since every dental patient is different. These clear aligners are nearly invisible when worn, they can be removed when eating and drinking, they are easier to take care of when compared to traditional braces and they usually offer less discomfort.
How to prevent stains during Invisalign® treatment
Invisalign® clear aligners are made using a high-quality, safe plastic that can potentially become stained. Below is information on several different ways anyone who chooses this treatment to straighten teeth can prevent unsightly blemishes on these aligners.
Practice good oral hygiene
Invisalign® wearers need to brush and floss their teeth every single day in order to prevent any type of staining within their clear aligners. Good oral hygiene prevents the buildup of any plaque or tartar that can cause stains. Since clear aligners can be removed to practice good oral hygiene habits, it is easy for wearers to brush and floss their teeth on a daily basis, especially when compared to wearing traditional braces.
Avoid consuming certain foods and drinks
Patients who wear clear aligners should consult a list of foods and drinks that can cause discoloration. Not only can these substances stain clear aligners, but they also affect natural teeth as well. Dental patients who choose Invisalign® to straighten their teeth will want to avoid consuming these foods and drinks until their treatment process is completed. Examples of items to avoid include candies, dark berries, juices, coffee, wine and soft drinks.
Clean stained aligners
While Invisalign® clear aligners are only worn for a couple of weeks at a time, it is still possible for them to become stained during this short period. Since dental patients do not want to wear discolored aligners during their treatment, the trays can be soaked in a special cleansing solution. An ideal time for wearers to clean their stained aligners is during the time they have removed the trays for eating.
Have you made a teeth-straightening choice that is right for you?
Now that you have read the above information on Invisalign® clear aligners, have you decided whether the many benefits of this option are right for you? Although it is important to take good care of the aligner trays during treatment, the steps needed to accomplish this are not difficult, and caring for the aligners becomes a simple daily process. If you have further questions, give our office a call, and we will be happy to assist you.
Are you considering Invisalign® to straighten your teeth in the Dunwoody area? Get more information athttps://drleeplunkett.com.
Check out what others are saying about our dental services on Yelp:
Invisalign in Dunwoody, GA
.