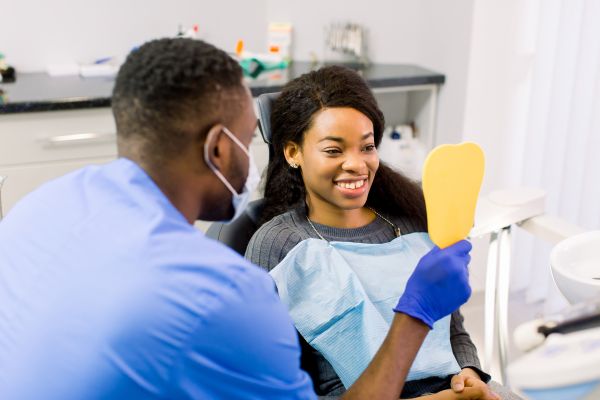 Cosmetic dentistry
plays a considerable role when it comes to how people feel about themselves. It can instantly transform the appearance of a person's smile, giving them a much-needed confidence boost. It is impossible to overstate the role that your teeth play when it comes to your appearance. It is one of the things people immediately notice during social interactions.
Problems fixed with cosmetic dentistry
Here are popular reasons people seek the services of a cosmetic dentist:
1. Tooth discoloration
Cosmetic dentistry
provides treatments like teeth whitening that can be extremely effective on most types of stains, like those that come from smoking tobacco and drinking beverages like coffee, red wine and dark sodas. The most ideal way to whiten teeth is by having it done by a dentist. Patients can expect teeth to be up to 10 shades whiter after professional whitening sessions. Many dentists also provide at-home whitening kits that patients can use on their own. There are also all types of whitening products that can be purchased at grocery stores, but these are typically the least effective.
2. Crooked/poorly shaped teeth
Crooked teeth is another issue that cosmetic dentists deal with often. There are a variety of treatment options that can be used to fix it effectively. Veneers can be used to cover the front of the tooth, hiding any flaws. Crowns fully enclose the part of a tooth visible above the gum line, so it can be used to enhance the aesthetics of poorly shaped teeth. Crowns also have restorative purposes. They allow the wearer to regain the tooth's function. Composite resins can also be used to improve the way a disfigured tooth looks. The putty-like substance is applied to the tooth and molded into the desired shape.
3. Misaligned teeth
Many people have to wear an orthodontic device at some point in their lives. These devices work by slowly pushing teeth into their proper alignment. Historically, the most popular orthodontic device has been braces, but clear aligners are quickly becoming the preferred way to straighten teeth.
4. Gummy smile
A gummy smile is caused by a person's gums being more visible than they should be. This can be caused by a handful of factors, so there are a number of ways to go about fixing it. Treatments options for a gummy smile range from Botox® to gum surgery.
Get back to your confident self
Having a fantastic smile can come with many benefits. You may become less self-conscious when interacting with others and be more willing to do the things you enjoy. Having a smile that makes you feel good not only can improve your social life, it can also carry over to your professional life. Dealing with issues that require the services of a cosmetic dentist? Stop by our Dunwoody office to explore treatment options. Also, feel free to call ahead and ask any questions you may have about
cosmetic dentistry
and any other dental procedures.
Request an appointment here: https://drleeplunkett.com or call Plunkett & Chaw Dental at (770) 452-0222 for an appointment in our Dunwoody office.
Check out what others are saying about our services on Yelp: Read our Yelp reviews.