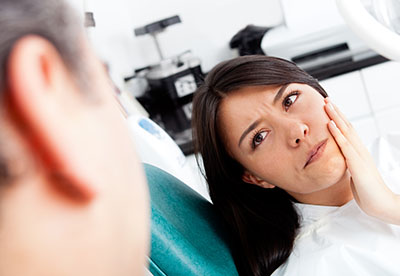 Sitting in the chair under the light at a dentist office, people may fear the worst possible scenario of tooth extractions. In other cases, the dental anxiety takes place before the patient even gets to the office. One fear may result from the idea of being put under sedation and having no control. The fear over a lack of control can cause many to shudder at the mention of sedation dentistry. The reality is that many methods of sedation dentistry do not require a patient to go to sleep in the first place.
Just breathe and relax
A sedation dentist is a dentist who offers sedation methods for a variety of reasons. The reasons can include:
Numbing an area of operation so the patient does not feel pain
Helping the patient relax for a procedure
Putting a patient under before a procedure begins
There are also a variety of forms of sedation that dentists use for these various reasons. A professional sedation dentist will go through training to know the proper amount to give per patient on the actors of age, duration of the procedure, the size of patient and more. The American Dental Association, ADA, lists some of the basics of sedation and anesthesia. The ADA explains that the state known as conscious sedation refers to "a minimally depressed level of consciousness that retains the patient's ability to independently and continuously maintain an airway and respond appropriately to physical stimulation or verbal command." A patient will not be relinquishing control when under a form of sedation producing this effect. Another state known as minimal sedation is slightly stronger, "Although cognitive function and coordination may be modestly impaired, ventilatory and cardiovascular functions are unaffected," the ADA states. In either of these states, the patient will be able to relax and not feel pain. For a dental operation or pulling teeth, sedation methods will prove useful.
You will be safe and comfortable
A dentist will do everything possible to create a comfortable environment in the office. Try as dentist might, people will still believe the stigma of painful dental visits and fear the notion of sedation. However, a sedation dentist will use sedation dentistry in common procedures and cleanings to help patients relax. Mouthhealthy.org writes that "Your dentist might recommend that your child be administered anesthesia or sedation to relax them in order to safely complete some dental procedures." It can be difficult for younger children to sit still in the dental chair for long periods of time. A sedation dentist will have the tools to safely administer something to calm the child, but not put the child to sleep. With numerous methods of sedation and anesthesia, a patient will not spend the entire day out of it or dizzy from the substance.  In cases where the effects may last a portion of the day, the dentist will notify the patient ahead of time and recommend that a loved one monitor the patient after the procedure. Nonetheless, sedation is a safe and normal part of most dental procedures. Each patient will be given an amount specific to their needs and will not have to fear the lack of complete control during a procedure. If you or a loved one is struggling with the idea of sedation during a dental procedure, call for a consultation and more information. In the situations where an individual struggles with dental anxiety, sedation dentistry can help.
Plunkett & Chaw Dental
At Plunkett & Chaw Dental in Dunwoody, GA, we will customize your treatment to match your needs and schedule. Our professional Team creates a calm atmosphere for you during the appointment and treatment process. If you have any questions or are unsure of what is causing the pain in your teeth, do not hesitate to call us. We will answer any questions and make sure you get all of the necessary information. We can help prevent damage to your teeth and set you on track for a lifetime of pristine oral health. At Plunkett & Chaw Dental, your experience with us and your dental health are our prime concern.