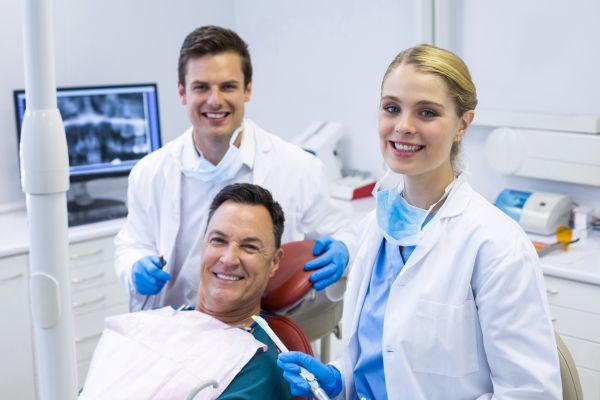 Wondering if you need a
general dentist
? There are many different types of dental professionals who can treat dental patients.
General dentist
s are the most common type of dentist, as they are the dental professionals who tend to be a patient's first point of contact, whether they are in need of restorative or cosmetic dental services.
Can general dentists perform oral cancer examinations?
Yes, they can. When oral cancer is found in its earliest stages, it is much easier to treat. This is the main reason that
general dentist
s perform this type of dental examination every time they see a dental patient. According to the American Dental Association, early detection may result in better treatment outcomes and may help keep you or someone you love from becoming claimed by the disease.
Who is at risk of being diagnosed with oral cancer?
Those who are over the age of 50, who previously or currently smoke or who drink a large amount of alcohol have an increased chance of being diagnosed with oral cancer. Men are diagnosed more often than women, and those who have been diagnosed with HPV need to let their dentist know, as this increases one's chance of being diagnosed.
Signs of oral cancer
Common signs of oral cancer include having a mouth sore that does not seem to heal, having a mouth sore that bleeds easily, seeing a change in color within one's gum tissues, a lump or thick spot in the mouth, any pain or tenderness in the mouth or lips and experiencing difficulty when chewing, swallowing, talking or moving the tongue around.
How an oral exam for cancer is performed
While the oral examination process to check for signs of oral cancer is not difficult to perform, it is one of the more important types of dental examinations. First, a dentist will ask about any medical changes or anything unusual occurring within the mouth. The exam then requires the dental professional to thoroughly look inside of the mouth, being careful to check every area for any signs of oral cancer. This includes checking the gums, cheeks, tongue, lips and the roof and bottom of the mouth. They will also check the throat, tonsils, jaw and neck for anything that feels abnormal.
When is the last time you had your mouth checked?
Ready to make an appointment with a general dentist so you can get checked for signs of oral cancer? If it has been more than six months since your last dental checkup, we invite you to contact us now to schedule this important dental appointment. Just let us know when you would like to come in so we can accommodate you at that time. If you have any questions, please be sure to write them down and bring them with you, as we are more than happy to provide you with the answers. We are here to help!
Request an appointment here: https://drleeplunkett.com or call Plunkett & Chaw Dental at (770) 452-0222 for an appointment in our Dunwoody office.
Check out what others are saying about our services on Yelp: Read our Yelp reviews.